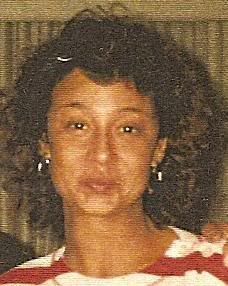 Larue's family would like for you to see this picture of Larue. The one National Center for Missing Adults has is not a good likeness of her.
Angie, Larue's sister would also love for you to know this about Larue :


Larue is a loving mother to her only son, Dante. She is a huge animal lover and would find homeless kittens and take them home. All of Larue's cats had a first and middle name (just like children). She is a caring daughter to our mother (who was Larue's foster mother). She is greatly missed and we really wish we knew where she is. We want to know what happened to her and why. Larue did not have an easy life. She was abandoned by her mother at birth and raised for a time by her biological father who later abandoned her as well. But that is ok, because Larue found family wherever she could! She had a way about her that made everyone want to take care of her. She is kind, thoughtful and funny. She will make you laugh at the drop of a hat. For instance, I am only two weeks to the day older than Larue, but to hear her tell it I am ancient compared to her! Our hearts are broken and continue to break even more with every passing birthday, holiday and even Sunday afternoons when we miss her usual calls home. The bottom line is we love her and we want her back.